Blog Archives
Words are interesting and their definitions intriguing, not as fixed in meaning as you might expect. Their definitions may change through time and due to where the speaker lives. These little pieces of language have history, and sometimes their antonyms tell us as much as their synonyms.
During these last few weeks I've watched spring come in small, seemingly weak ways, and during this time, God (who is Word himself) has been teaching me about one particular word:
"puny," a funny-sounding word which means
1. of less than normal size and strength; weak

2. unimportant; insignificant; petty or minor
When I encounter a phrase once–I think nothing of it, twice–I think it's interesting, but three times–I begin to pay attention.  I had been "feeling kind of puny," an idiom used more in certain parts of the USA than others. It means that I felt ill, so I had been reading more books and watching more movies than usual. I reread Jan Karon's Mitford series and was impressed by Father Tim's indefatigable housekeeper, Puny Bradshaw, who was anything but weak.
I watched a movie in which puny, frail, would-be World War II soldier, Steve Rogers, turns into the superhero, Captain America. In another film based on Marvel Comics, the antagonist, Loki, asserts that humans and superheroes are beneath him and declares, "I am a god." Then the Incredible Hulk thrashes Loki as if he were a rag doll and pronounces him to be a "puny god."
Jesus, too, must have seemed to be a weak, unimportant god as he hung on the cross. The religious leaders and one of the criminals crucified next to Jesus mocked and insulted Him:
save yourself! Come down from the cross, if you are the Son of God!   Matthew 27:40   NIV

One of the criminals hanging there made fun of Jesus. He said, "Aren't you the Messiah? Save yourself! Save us!   Luke 23:39
In another telling of the Gospel story,  C.S. Lewis' Aslan (in the Narnia tales) gives himself up to be tortured and killed. The White Witch believes she has won and that the "forever winter" of her rule will continue.  But the seeming debility turns out to be Aslan's– and Jesus'–great strength.  Aslan's death and return to life breaks the "old magic." The crucifixion prepares the way for the Resurrection, just as spring pushes up through the debris of winter.
but we preach Christ crucified . . . Christ the power of God and the wisdom of God. For the foolishness of God is wiser than human wisdom, and the weakness of God is stronger than human strength.   I Corinthians 1:23-25   NIV
As I watched the false "god" Loki overpowered by one of the "superheroes," I remembered some of the words from songs we had sung just last Sunday in our worship service:  "Mighty is our God" and "He is mighty to save."
Sometimes knowing what a thing is not helps us to know what it is. "Mighty" is the opposite of "puny."
for the Mighty One has done great things for me—
    holy is his name.    Luke 1:49   NIV
Our God is not a puny God.
He is a mighty God, who rose from the dead and saves us.
The Lord your God is with you,
    the Mighty Warrior who saves.
He will take great delight in you;
    in his love he will no longer rebuke you,
    but will rejoice over you with singing.

Zephaniah 3:17   NIV
*          *           *           *            *
linking with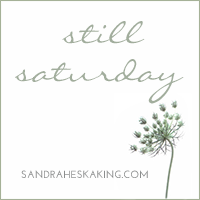 Sandra Heska King  
  Holley Gerth
I have seen many crosses this week–on church lawns, in sanctuaries, inside display cases, even on the corner of a car dealer's lot.  I join other Christians in commemorating Good Friday and remembering Jesus' suffering and crucifixion, but I don't want to get stuck there.
I don't want to become near-sighted, focusing only on the pain of the cross and forgetting the joy and glory of the Resurrection.  This story has a glory-filled conclusion.
I have been challenged by a recent Christianity Today article.
Don't focus on the suffering of Jesus to the extent that you neglect the glory of the Cross in and through the Resurrection.
The authors (Andreas J. Köstenberger and Justin Taylor) remind us of Jesus' journey from God and His return to the heavenly Abba.
Jesus knew that the hour had come for him to leave this world and go to the Father.

Jesus knew that the Father had put all things under his power, and that he had come from God and was returning to God;

John 13:1,3   NIV
Jesus' return to the heavenly Father was a return to glory!
And now, Father, glorify me in your presence with the glory I had with you before the world began.   John 17:5   NIV
I can't comprehend that.  The closest parallel I can imagine is leaving my home and family on a trip and coming back years later, but that's a dim candle compared to the bright splendor of heaven.
This familiar verse in Hebrews
For the joy set before him he endured the cross   Hebrews 12:2   NIV
reminds me of something I can understand:  the process of giving birth.
"Remember to breathe."
"Push!"
"Aaagh!"
"Congratulations! It's a boy–9 pounds and 13 ounces!"
Why do we endure the pain of childbirth?  For the delight we feel cradling our newborn,
 for the joy set before us.
My prayer for us all this Easter season:
may we remember Jesus death and suffering for our sins
AND the glory and joy of Jesus' resurrection.
I'm ready to celebrate!
He is risen.
He is risen indeed.
*          *          *          *          *
Thanks to Barb Briggs and Rachel Joy Nieuwsma for allowing me to use their photos.
  linking with Jennifer Lee Dukes
  linking with Emily Wierenga
  linking with Laura Boggess